Meet the real Isatou Ceesay and women of Njau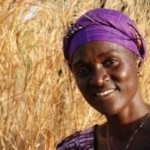 Isatou Ceesay came to the United States in 2015, 2016, and 2018 for very special tours and events with author Miranda Paul and/or illustrator Elizabeth Zunon. If you missed the opportunity to meet her, you can request a new tour, school visit, or speaking engagement by getting in touch with booking assistant JulieAnn Hartman through this contact form.
*A New virtual tour may be in the works! Don't miss out on your opportunity to have the One Plastic Bag tour stop at your school, church, or organization. Use the contact form to submit an inquiry.*
PAST 2015 TOUR SCHEDULE
March 15-17 – New York City, NY
March 18 – Hartford, CT
March 20-26 – Albany, NY
March 27-31 – Fort Collins, CO (and surrounding areas)
April 1 – Hobart and De Pere, WI
April 3-7 – Manitowoc, WI
April 8 – Green Bay, WI
April 10-13 – Salisbury, MD
April 14-15 – Washington, DC
April 16 – Fairfax County, Virginia
April 17-20 – Philadelphia & West Chester, PA
April 21 – Washington, DC
April 22 – Baltimore, MD
April 24-25 – Fox Cities (Menasha/Appleton), WI
April 28 – 30 – Green Bay, WI
May 2 – Shawano & Fond du Lac, WI
May 4  – Madison, WI
May 5-7 – Minneapolis, MN
You can also virtually *meet* Isatou Ceesay and recycling women of the Gambia through several YouTube videos or by booking a virtual visit. Please note, the documentary linked here extends far beyond the content of the book. It contains images and addresses subject matter that may not be appropriate for young children. Please evaluate the video first before sharing with your students.
Remember, if you're planning a trip to the Gambia, West Africa—ask your tour operator for the unique chance to meet the women of Njau and stay in the village.
Miranda Paul (author) also travels to schools, churches, and conferences to share the twelve-year story behind the making of One Plastic Bag: Isatou Ceesay and the Recycling Women of the Gambia. She'll engage your attendees as she helps them explore aspects of Gambian culture and introduces them on a more specific level to life in Gambia. Download Miranda Paul's school visit information packet online here. You can request to have Miranda AND Isatou present virtually to your group or class!
Furthermore, there are several additional videos and documentaries linked on the home page of One Plastic Bag where you can hear Isatou's message directly from her, as in this BBC Africa story.