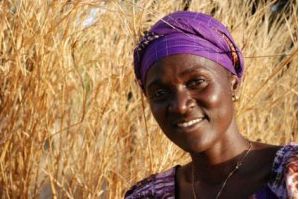 Happy birthday, Isatou Ceesay! (Dec. 30)
To surprise Isatou on her birthday, we want to let her feel the global impact of her grassroots work. You can leave her a birthday message on her Facebook page or through Miranda Paul's author page. Let's fill her inbox with love and support!
In addition to the birthday news, Isatou and the Women Initiative Gambia were just featured in the Gambia's newspaper, The Point, and also on AllAfrica.com regarding one of their new programs for young people!
Last, but not least, Lerner Publishing has made a fantastic downloadable bookmark that kids or teachers can print out, cut, and glue together. What a fun way to get ready for February 1, 2015 when One Plastic Bag hits store shelves! The bookmark is downloadable on our Teacher Resources page or by clicking the link directly here.
We're really looking forward to 2015. Happy New Year,
everyone!